On June 15, fans will begin casting their votes. The video with the most votes by Aug. 15, 2007 will be awarded $10,000. Music fans worldwide will cast their votes by downloading original works of their favorite unsigned artists: videos for $1.99 and DRM-free MP3 audio for 99 cents. Thirty second previews are free.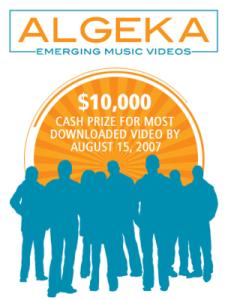 "Algeka is a worldwide community focused on promotion and exposure of unsigned singer songwriters — we think this can be a huge opportunity for people in all countries with talent," said founder Norm Yerke. "Singers and music buyers from Asia, Europe, Australia, the Americas and Africa are showing great interest in the site."
The competition will award one international singer-songwriter $10,000. Algeka standings will be updated in 'real time' several times a day so fans can track the progress of their favorites.