Smart DisplayCard is the first product to incorporate a one-time passcode display and a PKI chip into a wafer-thin card format.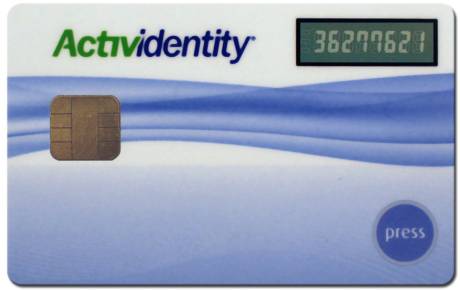 Developed and supplied by Innovative Card Technologies, the ICT DisplayCard integrates the security of a one-time passcode token directly into a card the size of a standard payment card. At the push of a button on the card, a one-time passcode is shown on the card's integrated display. During an online transaction, this number is entered into a user interface with other information such as the user's login name and static PIN for multifactor authentication.
The addition of a chip on the Smart DisplayCard enables PKI login, email encryption and digital signature capabilities, and is fully integrated with the ActivIdentity Software portfolio: SecureLogin SSO, ActivClient, ActivID Card Management System, 4TRESS AAA Server and 4TRESS Authentication Server.
"The Smart DisplayCard is the first time that the one-time passcode security of a token has been implemented alongside the authentication and encryption capabilities of PKI in such a unique form factor," said Thomas Jahn, CEO of ActivIdentity. "This thin card can easily be stored in a user's wallet, offering unprecedented convenience with the very latest in multi-channel authentication technology."