pcnews: First of all I want to thank you for this interview. Please introduce yourself to PCNews readers.
Kate: Hallo PCNews readers, I am Kate Kuo, working for Leadtek Computer Product B.U. as an account manager. I am very glad to have the chance to be interviewed by PCNews.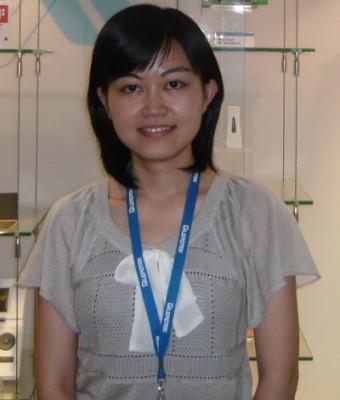 pcnews: Please enumerate Leadtek product categories.
Kate: There are 3 business units (BU) in Leadtek. Leadtek is famous for TV tuners and graphic cards . These two product categories are belonged to Computer Product B.U. which I am working for.
Our Wireless Communication BU is focusing on GPS modules & receivers. The other one Audio/ Video BU is producing IP Cam, Video Phone and so on.
pcnews: When someone say Leadtek almost everybody think to TV Tuners. Has Leadtek a secret of TV Tuners success?
Kate: Leadtek has developed our own AP and firmware, which has good driver fine tune capability. It is the reason why our image quality and compatibility are always better than other competitors.
pcnews: What advice would you give someone searching for a TV Tuner?
Kate: It depends on your needs. If you think most of time you will use it for watching TV, then you could just purchase a TV tuner like our WinFast TV2000XP Global. If you use it for recording TV program very often, then I will advice to purchase a TV tuner such as WinFast PVR2100, which cost a little bit more but with much faster processing than other TV tuners.
pcnews: What TV Tuner features are most important?
Kate: Time shifting is the most important feature for me. I can enjoy my show from start to finish at my own pace. Time shifting can be an important feature for thr upcoming EURO 2008, so you don't lose any minute of the game. In fact Leadtek celebrates this sporting event by having a special promotion with great prizes for TV Tuner buyers, Viva Euro 2008, in all Europe, in Australia and New Zeeland.
pcnews: How do you describe VGA business today? What is Leadtek position in VGA global business?
Kate: Nowadays VGA business is very competitive. You could find out more than 10 brands in the market, and most of them are new comers. Leadtek is a brand with tradition, and already in the VGA business for over 21 years. It must have something special; otherwise it won't survive that longer. How is it special? First, Leadtek is very good at the board layout skill. Usually NV will give its partners the board design layout for reference once the new chip is launched. However, sometimes Leadtek will design the board layout to have better driver and cooling performance. Leadtek is also very proud of it's over clocking performance. I think for those aspects no other brands can be competed with Leadtek.
pcnews: Leadtek is a traditional NVIDIA partner. We will see in the near future Leadtek VGA with AMD GPU?
Kate: I don't think so. Leadtek started cooperating with NV at a very first stage, and we are quite satisfied with the chip performance.
8. Hypothetically speaking, in a world without NVIDIA what AMD GPU would you choose for your computer? Why?
Kate: Well…I think I will choose not buying a computer. NVIDIA is my only choice.
pcnews: Please recommend a Leadtek VGA for each segment (entry level, mainstream and gamers/enthusiasts)
Kate: Entry Level: PX8400 GS TDH Extreme (with excellent noiseless cooling heatsink.)
Mainstream: PX9600GT (With ferro-aluminium alloy choke for the power circuit. It has Leadtek innovative S-Fanpipe construction.
Enthusiastic: PX8800 GTB (It has all solid aluminum capacitors. It increases the air intake size which has much better cooling performance. With MOSFET heatsink to lower down the temperature, it can have much stable GPU performance.)
pcnews: "Leadtek make dreams a reality". This is Leadtek slogan. What are your dreams? What are Leadtek dreams?
Kate: Leadtek dream is to facilitate and improve human life through new technology and applications without harming the environment. My dream is to see more and more Romanian people knowing about Leadtek, and enjoy using our products.
pcnews: Please send a message to PCNews readers.
Kate: I hope all of you can have fun by experiencing the most advanced, and convenient technology.
Tags:
Leadtek